Official 2014 MEET & GREET Thursday at 12pm!!
Its that time of year again when we start planning the 6th Annual Meet and Greet!!
6th Annual Meet and Greet - Thursday 12pm at Camp Waneetopia
also pregame parties on Friday and Saturday at 12pm too!!


**Family Friendly**
Lou and Rita (like2smoke) started this meet and greet 6 years ago to let everyone get to know who we were all talking to on this forum.... and has grown every year. After L2S, Andie Bee took over the reins of the Meet and Greet , welcoming us into her home and hosting it for us. But as our family grew, the party grew with it, to the point we required a 2nd site last year to hold us. Many of us contributed to help pay for the 2nd site to help the family, but we still busted out into the streets on all sides.... so by majority rule we have decided to move the 2014 Meet and Greet to the other side of the park to the group camp of WANEETOPIA. Where we are already set up to handle the masses of folks, with plenty of community room to hang out.

Im looking for a few Individuals to step up that would like to help setting up the Meet and Greet and to maybe run point on this endeavor for us. Please Pm me if interested in being a part
Directions to Waneetopia are fairly simple, exit through the Mushroom stage side of parks exit/entrance gate, then take the immediate right, as soon as you pass the powered sites, Waneetopia is everything you see past that on the right. We will have signs and directional markers out to help, and remember to wear you badges!! Look for this Banner:)


Who would have thought it would have grown the the size it is now!! I am blessed to know each and everyone of you old friends, and excited to meet the new ones!!
We will be there all week long, so feel free to stop by and say hello anytime.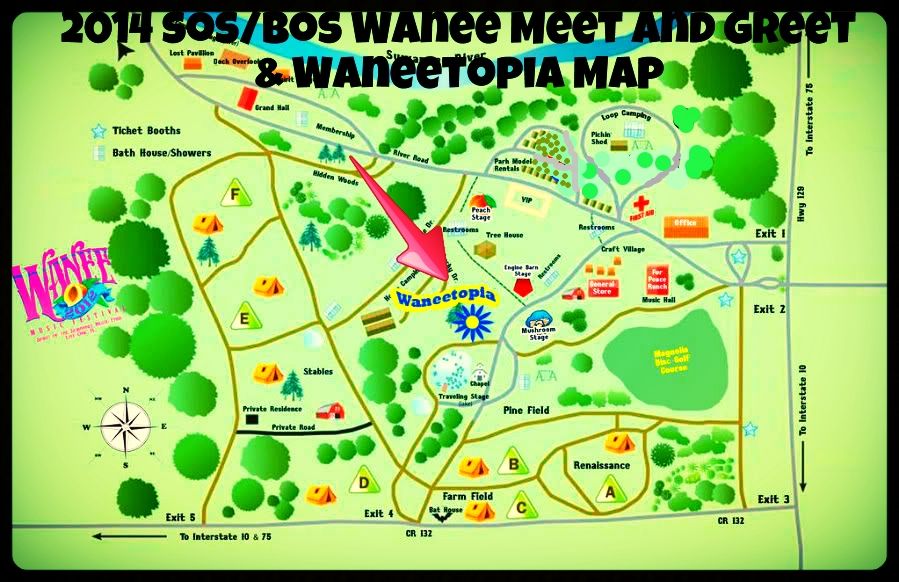 Here is a place to sign up if you are coming and what you are bringing. Please remember that you don't have to bring anything but a smile, a love of music, family and the beautiful SOSMP!
Who's Coming and Whatcha Bringing List
1) Govnah and Nicole - Bringing Waneetopia and my famous Keeb Cheese Ball and Crackers
2)
3)
4)