Re: Can anyone describe the festival in one word?
High all. I hope everyone got home safe and sound. There is not much we can say at this point about the festival except that we had so much fun that we just can't put it into words. Our only regrets are that we didn't get to meet everyone, and we didn't take more pictures.
If I could pick out one instance that epitomizes the spirit of the Suwannee, it would have to be how my wife and I became friends with people from half way around the world. Micke brought his two beautiful girls and himself all the way from Sweden. We fell in love with them right away.
I plan to think about Micke when the stress from work gets too bad. All this positive energy (this includes all of our new friends from the forum, too numerous to mention in a few paragraphs} is guaranteed to carry us over until next years Wanee festival.
Here is my favorite image; it is a glaring symbol of the new tradition known as the Sisters of The Suwannee: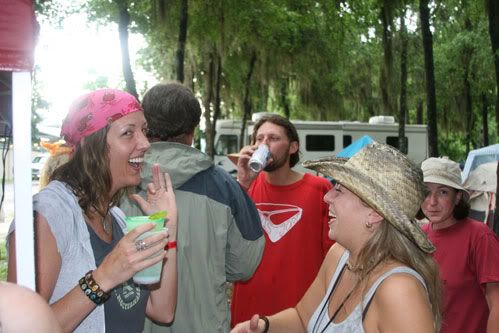 Here is Owl Lover and Calypso Momma, (not posing), and just look at those smiles! Brett and Stot are in the background. I will use this picture throughout the year as medicine.
Great People + Great Vibes = Great for the soul!