Electrical Hookups in Park
If you are planning on camping on a site that has water and electric hookups, you should be aware of the power supply at the site. You CAN NOT plug a standard 120 volt plug into the electrical hookup.
These sites have a 30 amp 120 volt receptacle. It is a bigger outlet, like the size of a electric clothes dryer. RV's and campers are usually outfitted to fit, but if you are camping on these sites without an RV you need to get a 30 amp 120 volt male to 15 amp 120 volt female adapter.
30A 120V to 15A 120V Adapter
Another consideration is if you are camping in the Loop section of the park with an RV. I believe that the electrical hookup there is 50 amps. If your RV has a 30 amp hookup and you camp at a spot that has 50 amp service you will need a 50 amp male to 30 amp female adapter.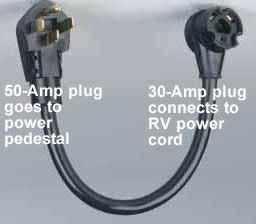 50A to 30A Adapter
Also if your RV has a 50 amp hookup and you are camping at a site that has 30 amp service, you will need a 30 amp male to 50 amp female adapter.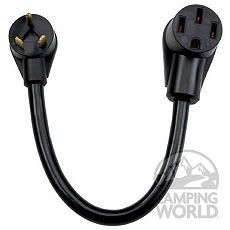 30A to 50A adapter